I see a lot of my friends have already upgraded their iPhones to the latest versions Iphone XS or XR, or latest iPhone 11 and 11 Pro. They really like to show off those 3 cameras and make selfies in a mirrow. Great marketing trick by Apple, as you can definitely know that this person has latest most expensive iPhone.
That is great, but most of them don't even realise, that their great devices have one amazing feature…
I ask almost any person I meet – "what model of phone do you have?" If they proudly present me their Iphone XS XR or Iphone 11, i ask them – "do you know that your phone has eSIM?"
Then in most cases the answer is – "NO"! And then – "what is it?"
The term "eSIM" or "Electronic SIM" simply means an embedded SIM card. The embedded SIM is basically a small chip already build inside your eSIM ready device where the information is rewritable.
Then a "SIM profile" is loaded on it through a QR code to be scanned by your device. Then the eSIM act as like a physical SIM, you can load several profile and manage them with the application included with your device.
I ask – "Did you ever want your iPhone to be Dual SIM? How many times you looked at Samsung or other Android devices and even bought them, not because you like them, but because you needed Dual SIM phone? "
How often I see busy people carrying two iPhones – one for business, one for personal calls…
When people realise, that their iPhone can be Dual SIM now, they can't even believe it. They want to know how it works?
Well, it is so simple!
You place your eSIM order online with the provider (for example http://www.mobilitypass.com). All you need to do is select eSIM and amount of credit you need for your calls and data usage
Receive or download QR code with your eSIM activation code
Use your device network settings to add new plan and scan provided QR code to activate eSIM instantly!
Your new connection will appear, same as when you have installed second SIM, and you can choose which connection to use
More info on how to activate eSIM on iPhone devices here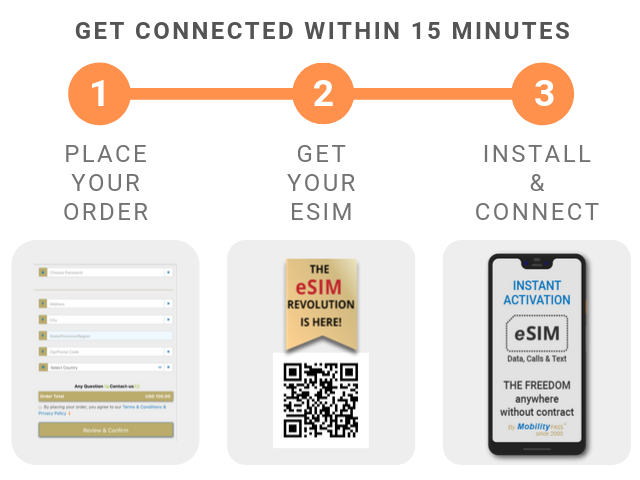 More than that,
you can use eSIM worldwide and save on roaming costs for Voice and Data…
Connect to almost any mobile carrier in the world
use main SIM for personal calls and eSIM for business calls or data, or vice versa
install eSIM in your Apple Watch and leave phone at home to continue make and receive calls on your watch or even browse internet
use eSIM for 2-Factor Authentification (2FA) if you do not want to expose your main number for extra security
send eSIM as a gift to your friend/relative instantly by e-mail, for example if they run out of credit abroad on their normal sim
Advantages of the eSIM technology are endless
Instant delivery into your eSIM ready device
Convert your device into a multiple SIM
Connecting locally to multiple carriers
Manage privacy for business and family
Provide mobile capability to small device like Smartwatch
and much more to come…
Have a look here on how eSIM works on different phone models and how to Buy eSIM: